Britannia would like to assist those who are not able to afford the advertised cost of certain recreation programs; at the same time, our operation needs to be financially viable. Click here for our Subsidy Policy.
Britannia Events Calendar
Making Place Sharing Space
Jun 19, 2013 6:00 pm - Jun 19, 2013 9:00 pm
A dialogue in response to community concerns regarding use of the Britannia site and neighbouring parks.
Noise, public nuisance, open alcohol and drug consumption, violence and foul language are just some of the complaints we hear every day from our neighbours. Please help us create solutions.
 
Food and light refreshments will be served.
Register by calling 604.718.5800 (2) or
Brought to you by the Britannia Board of Management: Brendan Boylan, Oliver Conway, Susanne Dahlin, John Flipse, Ray Gallagher, Gwen Giesbrecht, Stefan Grahovac,  Ingrid Kolsteren, Morna McLeod, Edward Stringer, Eva Sharell, Meseret Taye, Cleo Tracey,  Margaret Vis, Kathy Whittam
Partners: Geoff Taylor (VSB) Inness Campbell (VPL) Susy Bando (VPB)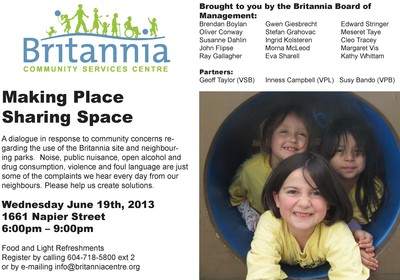 Events
Dec 2, 2018 6:00 pm - Dec 2, 2018 9:00 pm

The Britannia Great Movies Series happens every Sunday evening from 6-9pm in the 55+ Centre. All our welcome to come and enjoy a movie and free popcorn!

Dec 3, 2018 - Dec 6, 2018

Dec 7, 2018 8:00 pm - Dec 7, 2018 10:00 pm

Climb the WIBIT! Contests, prizes, games and crazy staff!

Dec 8, 2018 12:00 pm - Dec 8, 2018 4:00 pm

Celebrate the season by making your own seasonal decor and art projects.
Various local artists will be instructing in a variety of media.
All materials provided. All ages welcome!

Dec 9, 2018 6:00 pm - Dec 9, 2018 9:00 pm

The Britannia Great Movies Series happens every Sunday evening from 6-9pm in the 55+ Centre. All our welcome to come and enjoy a movie and free popcorn!

Dec 11, 2018 4:30 pm - Dec 11, 2018 6:30 pm

Location:

Learning Resource Centre