Britannia would like to assist those who are not able to afford the advertised cost of certain recreation programs; at the same time, our operation needs to be financially viable. Click here for our Subsidy Policy.
Britannia Events Calendar
Community Dialogues at Britannia Community Services Centre
Mar 29, 2012 11:00 am - Mar 29, 2012 1:00 pm
Location: Britannia Ice Rink Mezzanine Room
• Are you a parent or caregiver with children aged 0-6?

• Do you belong to an extended family with children aged 0-6?

• Do you want to make a difference within your community?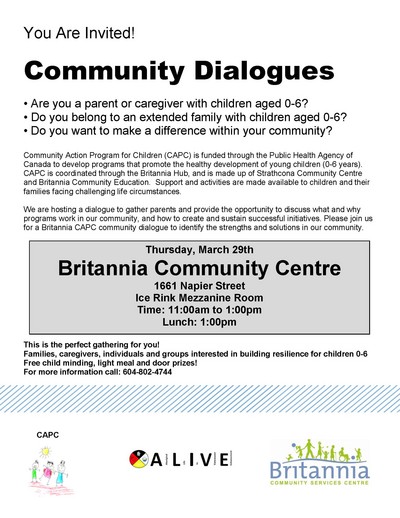 Community Action Program for Children (CAPC) is funded through the Public Health Agency of Canada to develop programs that promote the healthy development of young children (0-6 years). CAPC is coordinated through the Britannia Hub, and is made up of Strathcona Community Centre and Britannia Community Education. Support and activities are made available to children and their families facing challenging life circumstances.
We are hosting a dialogue to gather parents and provide the opportunity to discuss what and why programs work in our community, and how to create and sustain successful initiatives. Please join us for a Britannia CAPC community dialogue to identify the strengths and solutions in our community.

Events
Jan 1, 2019 1:00 pm - Jan 1, 2019 3:30 pm

Location:

Britannia Ice Rink

All are welcome to attend our free public skate from 1:00-3:30pm

Skate rentals included.


Jan 2, 2019 6:30 pm - Jan 2, 2019 8:30 pm

Location:

Britannia Art Gallery

January Exhibition runs Jan 2-Feb 1
Featuring:
"The Seasons of Vancouver" a photo essay by John Wang
"The Highrises That Ate Vancouver" oil paintings on board by Deanna Fogstrom

Jan 4, 2019 8:00 pm - Jan 4, 2019 10:00 pm

Climb the WIBIT! Contests, prizes, games and crazy staff!

Jan 6, 2019 6:00 pm - Jan 6, 2019 9:00 pm

The Britannia Great Movies Series happens every Sunday evening from 6-9pm in the 55+ Centre. All our welcome to come and enjoy a movie and free popcorn!

Jan 13, 2019 6:00 pm - Jan 13, 2019 9:00 pm

The Britannia Great Movies Series happens every Sunday evening from 6-9pm in the 55+ Centre. All our welcome to come and enjoy a movie and free popcorn!

Jan 19, 2019 9:00 am - Jan 19, 2019 12:00 pm

Location:

Northwest corner of Parking Lot