Britannia would like to assist those who are not able to afford the advertised cost of certain recreation programs; at the same time, our operation needs to be financially viable. Click here for our Subsidy Policy.
Britannia Events Calendar
Private Garden Tour of East Vancouver
Jun 15, 2014 10:00 am - Jun 15, 2014 4:00 pm
Location: Gardens in East Van
This self-guided tour will take you into some of the more creative and special gardens in East Vancouver.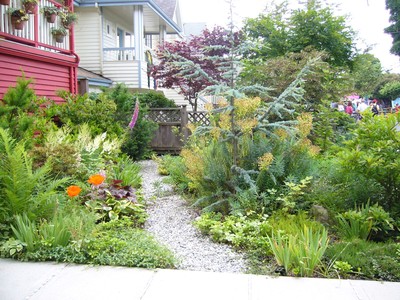 East Vancouver Garden Tour
On Sunday, June 15, visit a dozen or so private gardens as well as several public spaces that have been 'greened' by East Vancouver residents. This year's self-guided tour will take you into some of the most creative gardens in the Strathcona neighbourhood of East Vancouver. Once you arrive at the starting place for the tour, you will likely be able to walk the entire route. Tickets are $12 per person. Register early, as the tour is very popular and tickets are limited. Purchase tickets in advance at Figaro's Garden or register in advance at Britannia Centre, 1661 Napier Street, or online or by phone to 604-718-5800 (2). On the day of the tour, pick up your map at Figaro's Garden, 1896 Victoria Drive. The tour is jointly sponsored by Britannia Neighbours, Britannia Centre, and Figaro's Garden Centre.
A limited number of tickets will be available at Figaro's Garden at 1896 Victoria Drive on the day (cash only). $12/person
Please note:
Gardens are not wheelchair accessible
Children must be 12 years or older
No pets/no photographs allowed on tour

 
Proceeds of the East Van Garden Tour go to support the work of Britannia Neighbours, which these days includes: the ongoing maintenance of the Napier Square Greenway; support for the new Grandview Garden Club, which meets on the third Wednesday of every month at 1739 Venables Hall; support for the summer Napier Greenway art fair "Artful Sundays"; sponsorship of a worker to water regularly throughout the summer and of another, from The Kettle, to pick up litter in the Greenway five days a week; and a partnership with Drive Organics to make compost for the Greenway.
We thank the Green Streets program of the City of Vancouver Engineering Department for its ongoing assistance.
This tour is jointly sponsored by Britannia Neighbours, Britannia Community Centre and Figaro's Garden Centre - raising money for the greening of the neighbourhood.

Events
Jan 1, 2019 1:00 pm - Jan 1, 2019 3:30 pm

Location:

Britannia Ice Rink

All are welcome to attend our free public skate from 1:00-3:30pm

Skate rentals included.


Jan 2, 2019 6:30 pm - Jan 2, 2019 8:30 pm

Location:

Britannia Art Gallery

January Exhibition runs Jan 2-Feb 1
Featuring:
"The Seasons of Vancouver" a photo essay by John Wang
"The Highrises That Ate Vancouver" oil paintings on board by Deanna Fogstrom

Jan 4, 2019 8:00 pm - Jan 4, 2019 10:00 pm

Climb the WIBIT! Contests, prizes, games and crazy staff!

Jan 6, 2019 6:00 pm - Jan 6, 2019 9:00 pm

The Britannia Great Movies Series happens every Sunday evening from 6-9pm in the 55+ Centre. All our welcome to come and enjoy a movie and free popcorn!

Jan 13, 2019 6:00 pm - Jan 13, 2019 9:00 pm

The Britannia Great Movies Series happens every Sunday evening from 6-9pm in the 55+ Centre. All our welcome to come and enjoy a movie and free popcorn!

Jan 19, 2019 9:00 am - Jan 19, 2019 12:00 pm

Location:

Northwest corner of Parking Lot