Britannia would like to assist those who are not able to afford the advertised cost of certain recreation programs; at the same time, our operation needs to be financially viable. Click here for our Subsidy Policy.
Britannia Events Calendar
Film Festival 4 Peace
Dec 17, 2011 10:00 am - Dec 18, 2011 9:00 pm
Location: Auditorium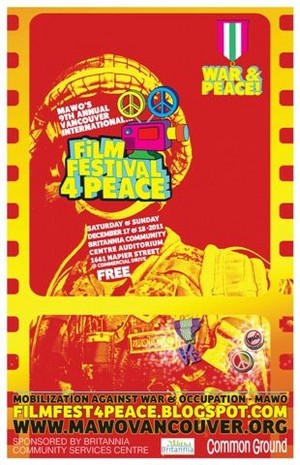 9th Annual Vancouver International
FILM FESTIVAL 4 PEACE
* ~ * ~ * ~ * ~ * ~ * ~ * ~ * ~ * ~ * ~ *

"WAR & PEACE!"

December 17th and 18th, 2011
10:00 am to 9:00 pm
Britannia Community Centre High School Auditorium
1661 Napier Street (at Commercial Drive), Vancouver, Canada
Featuring…
"Making a Documentary Film: A Master Class with Saul Landau"
world renowned documentary filmmaker from San Francisco, guest director from the Vancouver International Film Festival (VIFF)
Saturday December 17 @ 5:00 pm
The Vancouver International Film Festival 4 Peace will be captivating Vancouver audiences for the 9th consecutive year. The film festival promotes peace through a unique collection of documentary and feature films. This annual festival brings the reality of war and occupation to the big screen, and brings to light the struggle for self determination and social justice being fought by hundreds of millions of people around the world. Year after year, the festival features films which span the world; from Latin America to Africa, from the Middle East to Asia, and from Europe to here in North America. Audiences will be taken back in time through historical classics, and will be some of the first to see new premieres.
This year we are pleased to host Saul Landau for the special workshop "Making a Documentary Film: A Master Class with Saul Landau" which will provide an exciting perspective from the esteemed filmmaker and showcase some of his memorable works. Saul Landau is an internationally renowned documentary filmmaker, scholar, author, and commentator, as well as a Professor Emeritus at California State University, Pomona, and a Senior Fellow at the Institute for Policy Studies at the Berkeley Graduate School of Journalism. Saul Landau has produced more than 40 films on social, political and historical issues, and worldwide human rights.
Embark on a journey through Tahrir Square and Tunis, Gaza city and Kandahar, Tripoli and Pearl Square, Guantanamo and Havana, Kent State and Attawapiskat, from your seat at the Film Festival 4 Peace.
Check for updates at:
Join the facebook event at:
Click to see the poster:
Sponsored by:
Britannia Community Services Center
Common Ground
Capilano University Indigenous Independent Digital Filmmaking Program
* * * * * * * * * * * * * * * * * * * * * * * * * * *
MAWO ~ Mobilization Against War & Occupation
http://WWW.MAWOVANCOUVER.ORG
info@mawovancouver.org
P 604-322-1764 || F 604-322-1763

Events
Dec 2, 2018 6:00 pm - Dec 2, 2018 9:00 pm

The Britannia Great Movies Series happens every Sunday evening from 6-9pm in the 55+ Centre. All our welcome to come and enjoy a movie and free popcorn!

Dec 3, 2018 - Dec 6, 2018

Dec 7, 2018 8:00 pm - Dec 7, 2018 10:00 pm

Climb the WIBIT! Contests, prizes, games and crazy staff!

Dec 8, 2018 12:00 pm - Dec 8, 2018 4:00 pm

Celebrate the season by making your own seasonal decor and art projects.
Various local artists will be instructing in a variety of media.
All materials provided. All ages welcome!

Dec 9, 2018 6:00 pm - Dec 9, 2018 9:00 pm

The Britannia Great Movies Series happens every Sunday evening from 6-9pm in the 55+ Centre. All our welcome to come and enjoy a movie and free popcorn!

Dec 11, 2018 4:30 pm - Dec 11, 2018 6:30 pm

Location:

Learning Resource Centre