Britannia would like to assist those who are not able to afford the advertised cost of certain recreation programs; at the same time, our operation needs to be financially viable. Click here for our Subsidy Policy.
Britannia Events Calendar
Britannia Elementary School Calendar
Britannia Library Monthly Events: March
Britannia Secondary School Calendar
Britannia Teen Centre: March
City of Vancouver Events Calendar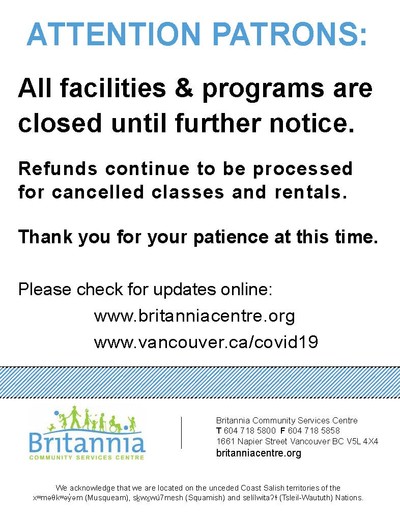 8th Annual Earth Day Parade
Apr 21, 2018 1:00 pm - Apr 21, 2018 3:00 pm
Location: Commercial Dr & Grandview Park
Join Windermere Secondary School's Youth for Climate Justice Now as we carry on this fun, family-friendly tradition by coming together to celebrate the planet.
This year's parade will begin at Commercial and Broadway at 1:00 PM
And the festival continues on at Grandview Park from 1:45 to 3:00 PM
Visit earthdayparade.ca for more event details.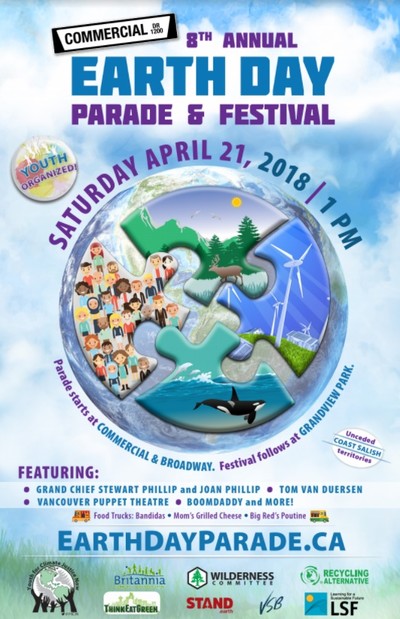 Events
Apr 1, 2020 6:30 pm - Apr 1, 2020 8:30 pm

Location:

Britannia Art Gallery

Apr 3, 2020 8:00 pm - Apr 3, 2020 10:00 pm

Climb the WIBIT! Contests, prizes, games and crazy staff!

Apr 8, 2020 7:00 pm - Apr 8, 2020 8:30 pm

Location:

Britannia Art Gallery

Apr 18, 2020 9:00 am - Apr 18, 2020 12:00 pm

Location:

Northwest corner of Parking Lot