Britannia would like to assist those who are not able to afford the advertised cost of certain recreation programs; at the same time, our operation needs to be financially viable. Click here for our Subsidy Policy.
Notice of Electrical Vault Shut Down Thu Aug 9th
Due to an Electrical Vault Shut Down for maintenance, there will be NO POWER throughout the Britannia site on Thu Aug 9th 2018 from 4:00am-10:30am.

Note:
- The Britannia Child Care will be open at 7:30am as usual.
- Camps will meet outside before leaving for scheduled out-trips.
- Rink, pool & fitness centre will open late at 12:00pm.
- Programs will run as scheduled in the afternoon & evening.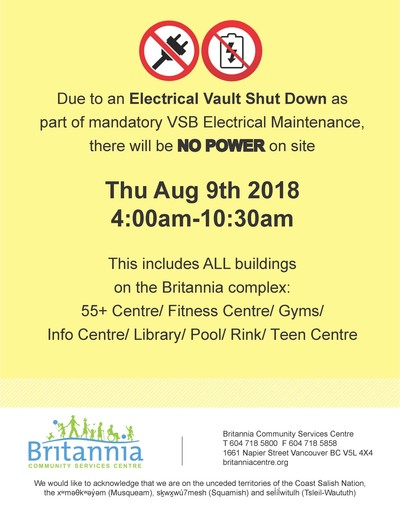 Post a Comment :
Comments are currently closed for this post.