Membership
To participate in recreation programs you must be a member of Britannia Centre.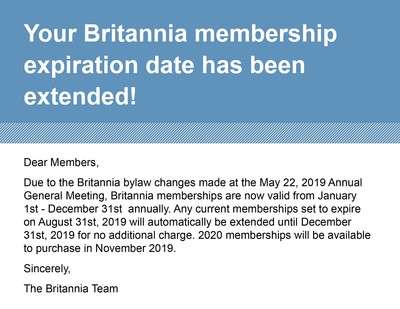 Current membership is valid until Dec 31, 2019.
Family                    $5.00
Adult                      $3.00
Child, Youth, 55+   $1.00
Membership may be obtained when you register for a program or any time during the year at the pool cashier or Info Centre.
Membership fees will be automatically added to your online purchase.
What does membership give me?
Voting privileges at the Annual General Meeting of the Society May 23, 2018
Eligibility to run for the Board of Management
Mail outs about Centre programs and events
Access to special membership programs
Britannia membership is required before registering for programs
Free access to Fitness Centre on Tuesdays & Fridays between 10am-Noon
Other passes available at Britannia are:
Leisure Access Program (completed applications can be processed at Pool Cashier / Info Centre)
Flexipass (available for purchase at Pool Cashier)