Weaving Our Community Together (WOCT)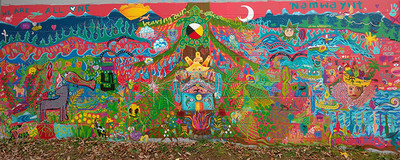 Mural: Weaving Our Community Together, Oct 2018. Painted by intergenerational community with artist Hazel Bell-Koski.
Please note that the Weaving Our Community Together (WOCT) programs will be modified from January to March 2023. The weaving, drumming and beading workshops will be happening every two weeks instead of weekly.
Drumming will start Monday January 16, weaving will start Wednesday January 11 and Indigenous Crafts will start Monday, January 16.
We are looking for new funding for the programs and hope to resume them on a weekly basis in April. If you have any questions about the schedule or the activities please contact Kya Prince or Anne Cowan at 604-718-5837.

Regular lunch gatherings are starting on Monday January 9 and we are hoping to start up the Friday lunches in February. Thank you for your patience as we go through this transition, if you have concerns about the overall direction of the WOCT program please contact Peter Odynsky 604-718-5820, or Cynthia Low 604-718-5815.
What is WOCT?
Weaving our Community Together brings Indigenous youth, elders and other community members together for mutual sharing, learning, connecting and growing. WOCT features elder and youth circles, mentorship activities, cross-cultural sharing and outreach to promote belonging, respect, cultural pride and intergenerational learning.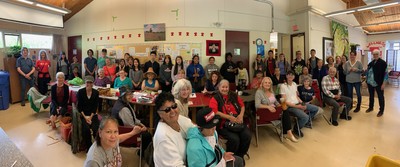 Join us on Facebook
Weaving Our Community Together @ BRIT
We have weekly Zoom gatherings, chat groups that always welcome new members, and online craft classes