Britannia would like to assist those who are not able to afford the advertised cost of certain recreation programs; at the same time, our operation needs to be financially viable. Click here for our Subsidy Policy.
Britannia's Winter Craft Market
Support local artists and makers this holiday season; from handmade soaps, to beading to baked goods - there's something for everyone!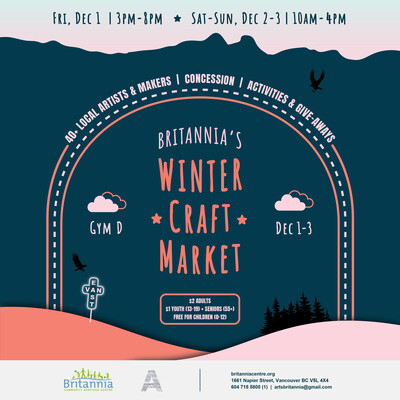 Dec 1, 3pm-8pm | Dec 2 & 3, 10am-4pm | Gym D
$2 general admission. $1 for youth and seniors. Kids 12 and under are free!
The main market will take place in Gym D. Check out Elders and seniors crafts, beadwork, and more in the 55+ Centre.
RSVP
 to the Facebook event.

Vendors
A Healthy Beginning
Aileen Handmade
Eunoia Naturale
Anita Bora Ceramics
Art by MyM
Babylon Buttons
Belcap Creations
Beau Home Boutique
Brit Elementary PAC
Britannia Young Entrepreneurs
Canada Embroidery
Carta Pottery
Cree Lynn Creations
Cutesypoo Toys
Dee's Handmade Goods
Enviro Bag Evolution
Haisla Collins
Hooks and Beads by PQ
Holistic Buffalo
House On Fire Art
LadyBear Designs
Landing Hawk
Laura Leonte
Lenka Subotica
Lickin' Toads
Little Morsels
Natalia Mokhovikova
M and R Art
Martin Sparrow
Maya Beam & Georgina
Mitchells Beaded Bling and Ribbon Skirts
Morgan's Pillows & Patchwork
Nonna's Biscotti
Oasis of Tranquility and Amped Coffee
QUIRK-E (Queer Imaging and Riting Kollective for Elders)
Raven and Hummingbird Tea Co.
Reward Your Skin Soap Company
Risky Ceramics
Sabian's Arts and Crafts
Sky Pottery Studio
Seductive Perils
Tabachoy Provisions
The Inspired Gypsee
Trudy Ann's Chai & Spices
United for Literacy
Zolti Creations
ZNAK
Performers
Britannia Secondary Band
Carnival Band
St. James Music Academy Ensembles
Salsa Cubana with Carlos Reyes Pena
Musician Sara Magal with VLACC
...and more!
Fundraisers
Proceeds from the entrance fee and concession support the Britannia Secondary School Basketball teams. The concession will offer delicious butter chicken and chili.
The Britannia Elementary PAC will be fundraising for school programs and a new playground structure at their table all weekend, featuring items made by Brit kids!
Payments
There is no ATM on site. While many vendors accept debit and credit, some may only accept cash.
Post a Comment :
Comments are currently closed for this post.