Britannia would like to assist those who are not able to afford the advertised cost of certain recreation programs; at the same time, our operation needs to be financially viable. Click here for our Subsidy Policy.
Holiday Hours - August 2
Find out what is open around the site on the long weekend.
 
Saturday
Jul 31st
Sunday
Aug 1st 
Monday
Aug 2nd
Info Centre  
CLOSED
CLOSED
CLOSED
Pool  
8:00am - 6:15pm
9:00am - 7:15pm
10:00am - 5:00pm
Fitness Centre
10:00am - 5:30pm
10:00am - 5:30pm
10:00am - 4:00pm
Ice Rink
10:45am - 2:45pm
12:15 - 4:00pm
CLOSED
Library
10:00am - 6:00pm
1:00 - 5:00pm
CLOSED
55+ Centre   
CLOSED
CLOSED
CLOSED
Teen Centre
CLOSED
CLOSED
CLOSED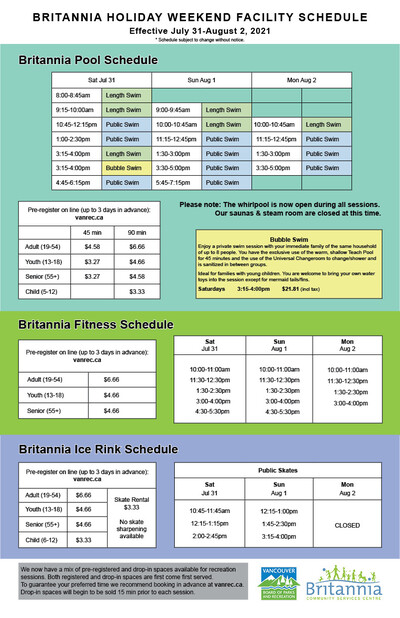 (Click on image for larger view)
Post a Comment :
Comments are currently closed for this post.