2020 Annual General Meeting
September 23, 2020
6:00pm - 7:30pm.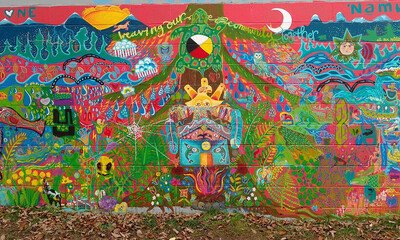 In light of the COVID-19 pandemic, our AGM will be largely held online, with limited in-person attendance in Gym D. To attend the AGM online or in person, you must register in advance.
We encourage you to attend the AGM online; in-person attendance is available to support society members who aren't able to participate online.
In-person attendance is limited to 20 people maximum. We have health and safety protocols in place: masks and hand sanitizer will be provided upon entry, physical distancing is required, and individual pens and ballots will be provided.
Event Link
The event link and login information will be emailed to all preregistered online attendees on September 21, 2020. If you did not receive an email with the link, please email .
Voting
For our members attending the AGM virtually, you can vote in the board election online. For our members attending in-person, you can submit a paper ballot during the AGM. You are only permitted to vote once. You can review the board nominee biographies below. Election results will be published online on September 24, 2020.
Voting Eligibility
All those who are members of the Society as of 9:00pm on September 9, 2020, are eligible to vote in the election and stand for election.
Because our facilities have been closed for several months, our 2020 memberships are now free. You can obtain a free membership over the phone by calling 604.718.5800 (1) or online here. Memberships are valid until December 31, 2020.
Please note: We have a limited capacity to answer the phone at this time. If you need to purchase your membership over the phone, please do not wait until the last minute as we may not be able to process your request.
Run for the Britannia Board
There are two ways to run for the Board of Management:
Declare yourself a candidate in advance. Contact us by phone at 604.718.5815 or email cynthia.low@vancouver.ca. Write a brief biography (150 words max.) describing who you are, and noting your community interests and relevant experience. The bio will be available on our website leading up to the AGM. You will be asked to prepare a short speech (one minute max.) to deliver at the AGM or to be prerecorded for playback at the AGM.
Nominate yourself from the floor at the AGM. Attend the AGM on September 23, 2020 (virtually or in-person) and nominate yourself from the floor. There will be extra space on the ballots for voters to add in the names of nominations from the floor.
AGM Draft Agenda
Land Acknowledgement
Welcome
Messages from:

Acting President
Treasurer
Executive Director
Manager of Administrative Services
Planning and Development Committee
Board Development Committee

Appreciations for 2019-2020 Board
Nominations for 2020-2021 Board

Nominations from the floor
Nominees speeches
Questions from the floor

Elections open
Announcements
Notice of first meeting of the 2020-2021 Board of Management
Appreciations and Adjourn
Annual Report
To read our 2019 Annual report, click here.
Board Nominee Biographies
If any further nominations come forward, their biographies will be added below.

Annie Danilko. "Coming from a small community, Masset, and being Haida, I appreciate the warmth, kindness and diversity of the people at Britannia Community Centre. In the past I have volunteered as a Big Sister for 14 years, at the Williams Lake Women's Centre for 8 months (full time), The Greater Vancouver Food Bank for 4 years, and now on the Britannia Board for the past few years.
I am on the following Committees: the Seniors, Elders and Advocates Committee; the Board Development Committee; the Planning and Development Committee; the Finance Committee; and the new Anti-Racism and Anti-Oppression committee. I am looking forward to my new experiences here at Britannia Community Centre. I plan to grow old here using all the programs and facilities."

John Flipse. I have had the pleasure to be part of the Britannia Board of Management for the last 9 years and have been elected Treasurer for the 3 consecutive terms.  I am passionate about Grandview-Woodlands.  A native Vancouvertie and world traveller, I moved to Commercial Drive 17 years ago and have never looked back.
Since then, I have seen the neighbourhood through many sets of lenses.  First, as renter (and a newlywed) wanting to settle in an area that is often described as one of Vancouver's coolest places to live or visit.  Second, buying and restoring a 1910 home provided yet another, more historic perspective.
Becoming a father 16 years ago was the main motivation for helping initiate the renewal of Grandview Park and to seek the renewal of Britannia Community Centre.  As a member of the Britannia Planning and Development Committee since 2010 I assisted in the creation and submission of the Britannia Master Plan that started the discussion and funding of the site wide revitalization.  I will bring to the Britannia Board a strong desire to renew and revitalize Britannia Centre and leverage its unique structure to create a multi-purpose recreational facility that will serve the growing needs of all Grandview-Woodland residents.

Farren Gillaspie. "I grew up on a dairy farm in Ontario. In my mid-twenties I moved to Calgary to pursue a career in mental health. After two holiday visits to Vancouver, the pull was just too strong and I moved here in 1983. At present I live a few blocks from Britannia, and have used the pool and gym regularly. I am also a member of a writing group, Quirk-e (Queer Imagining and Riting Kollective for Elders), that met at the 55+ Centre every Wednesday (now our meetings are through zoom).
I have been a residential coordinator for thirty seven years, working with and advocating for people who have developmental challenges. I joined the board mid-term this year. Recently I have started attending Zoom meetings with SEA Committee. I have been able to support discussions between Quirk-e and the committee. One of the Quirk-e sub-groups works on Zines. The next one is due at the end of September and is devoted to ant-racism which is a theme that Britannia is tackling. Stories have been requested from the SEA Committee and anyone in the Britannia community.
Even if I am not elected to the board I will continue to be involved with Britannia if they will have me. I have been inspired and intimidated sometimes by the dedication and hard work of the Britannia board and employees. They have created a supportive, caring environment of which I want to be a part of. I will continue to expand my involvement as I become more knowledgeable of the different committees."

Ingrid Kolsteren. "Having raised a family and lived in the area for over 40 years, I feel very much part of this community. My work experience includes: teaching adult education at Vancouver Community College, being active as a union representative, and working in mental health and community groups.
I have been on the board for the last three terms and active on a number of committees, including, chair of Arts and Culture, Child Care, Board Development committees and most recently working on the board's Anti-Racism Statement. I have been on the executive as a Member at Large, Vice President and most recently as Acting President. Being involved at Britannia has been a really positive experience. It is an ongoing education in many ways. It is a privilege to be a community member on the board, to work and connect with the many wonderful dedicated folks and staff, especially during these challenging COVID-19 times."

Craig Ollenberger. "I have served on the Britannia Board for the past six years and am seeking re-election. I am a local community organizer and father of three living in Grandview. During my term on the Britannia Board, I have been a member of the Finance Committee. I was a founding director of Car Free Vancouver and the Commercial Drive Festival and have served as a director of the Grandview-Woodland Area Council for well over a decade. I am a passionate advocate of cycling and the role it can play in creating a more sustainable world.
I value the diverse and significant role played by Britannia in this community. I am committed to stewarding the Society as it continues to anticipate and meet the needs of local residents. I look forward to continuing to deepen my understanding of the complex and valuable work done by Britannia for this community. I am here to help."

Naina Varshney. Naina is a long-time user of the facilities at Britannia Community Centre and has been a Director on the Britannia Board of Management since November 2017. A 2010 Templeton Secondary School graduate, Naina learned how to ride a bike, swim, and somersault as a child at Britannia and presently sits on the Anti-Racism and Anti-Oppression Committee, Arts and Culture Committee, and Grandview-Woodlands Food Connection Advisory Council. An advocate for accessibility, she strongly believes in creating equitable and inclusive gathering spaces for the community and continued Access and Diversity programming efforts at the Centre. Naina is a 2015 UBC BCom graduate and freelance strategic marketing consultant.  

Vanessa Walterson. "I am an Indigenous scholar, Mėtis Cree artist, and Sous Chef originally from Dauphin Manitoba. I have been a community member of the Commercial Drive area since 2002, when I moved here from Manitoba with my small family — my daughter and I.  As well, I have an extensive background in Indigenous studies and I'm a community programmer via volunteer works."