Britannia would like to assist those who are not able to afford the advertised cost of certain recreation programs; at the same time, our operation needs to be financially viable. Click here for our Subsidy Policy.
34th Annual Britannia Christmas Craft Fair
Want an early start on your Christmas shopping? Come check out the 34th annual Britannia Christmas Craft Fair from November 17, 18, and 19, 2017!
Deadline for submissions is October 1, 2017
You are invited to apply to be a Maker at this year's Britannia Christmas Craft Fair.  
Below is the Application Form and for more information about the fair, including jury date for new vendors, we have attached a newsletter.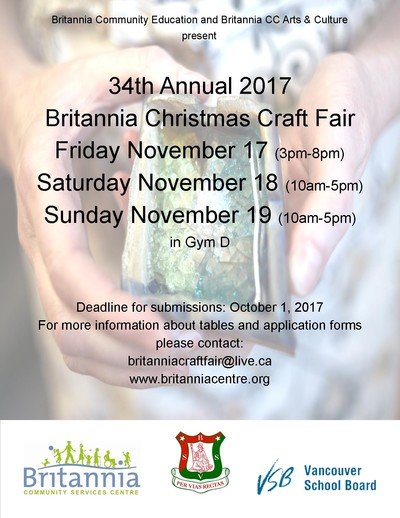 2017 Vendor Application Information:
Post a Comment :
Comments are currently closed for this post.