Britannia would like to assist those who are not able to afford the advertised cost of certain recreation programs; at the same time, our operation needs to be financially viable. Click here for our Subsidy Policy.
All Candidates Forum - May 1st
Britannia will be co-hosting an All Candidates forum on Monday May 1st from 6:00-9:00pm in partnership with Britannia Library, ALIVE, Reach Health Clinic, The Kettle Friendship Society, Vancouver Aboriginal Friendship Centre and Grandview Woodland Area Council.
The event will begin with a community meal, followed by a World Café style dialogue with the candidates for the ridings of Vancouver-Mount Pleasant and Vancouver-Hastings.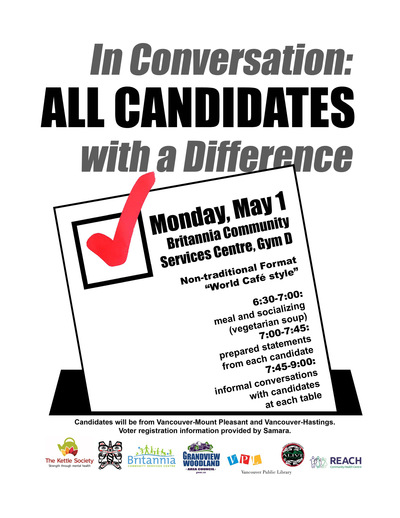 Candidates:
Vancouver-Mount Pleasant 
Mike Hansen - Independent
Jerry Kroll - Green
Connie Lin - Liberal
Peter Marcus - Communist
Melanie Mark - NDP
Shai Joseph Mor - YPP
Vancouver-Hastings
Kimball Mark Cariou - Communist
Shane Lee Simpson - NDP
Jane Spitz - Liberal
David  H. T. Wong - Green
Post a Comment :
Comments are currently closed for this post.